BODPAVE Provides the Ideal Stabilising Solution for Access Roads and Parking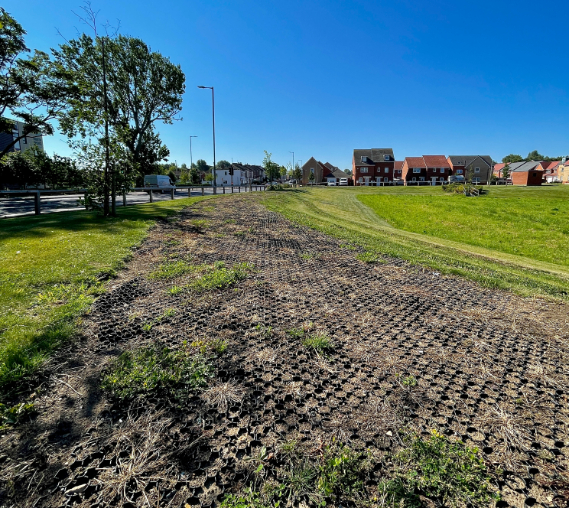 Project: Barratt Homes - Jubilee Gardens
Location: Stockton-on-Tees
Contractor: James Burrell Ltd
Product/services supplied: BodPave 85, Stakes and Ties
BODPAVE Provides the Ideal Stabilising Solution for Access Roads and Parking
About the project:
Barratt Homes Northeast acquired a parcel of derelict land opposite the North Shore Academy on the outskirts of Stockton-on-Tees. The land is of particular historical interest, being the site of the wagon works for the world's first ever passenger railway line, from Stockton to Darlington. The works were later used during World War 2 for the manufacture of de Havilland Mosquito bombers.
The development comprised 300 new homes, with a combined direct and indirect investment of £160 million. As with most housing developments nowadays, care was taken to include sufficient green space area for residents to enjoy. Along with play areas, part of this included a large swale at the front of the development bordering North Road, to help cope with excess water runoff or flooding during heavy rain events.
Green-tech's involvement:
Several areas around the main swale and service areas, although grassed, needed additional ground stabilisation to avoid the surface becoming rutted or worn. Green-tech has been working with Northeast builders' merchants, James Burrell Ltd for 17 years, and they came to Green-tech to order 300 square metres of BODPAVE 85, to stabilise the grass top surface.
BODPAVE is an interlocking, porous, cellular plastic paving grid system used as an effective ground reinforcement solution, that can be backfilled with either gravel, hardcore or a soil/grass mix. The design of the units resists lateral movement yet allows for expansion and contraction.
It is an ideal base for sown grass, as the units both stabilise the ground and protect the roots, allowing the grass to grow through the cells and rendering the units practically invisible over time, especially if the green colourway is used. It is ideally suited for:
Car/Coach parking
Overspill grass car parks
Emergency Service (Fire access routes)
Walkways and access routes
Golf buggy paths
Driveways or on-grass parking
Grass aircraft taxiways and helipads
BODPAVE is made here in the UK from UV stabilised. 100% recycled waste plastic. Completely non-toxic, once backfilled the units can stand up to 400 tonnes/m2, transferring the load laterally across the surrounding units. With each paver having 18 ground spikes, BODPAVE can be used on slopes up to 12%/7°.
As well as BODPAVE 85, we also offer the slightly shallower, new improved BODPAVE 40, available in green or black, but with a load bearing capacity of 250 tonnes/m2. This provides a stable base car parks and it can be supplied with white markers for parking spaces.
The swale area was finished off with tree planting to soften the boundaries around the perimeter, and for which Green-tech supplied the necessary stakes and rubber ties and blocks.
Alasdair Innes – Green-tech Specification Advisor comments, "Although a fairly straightforward project, it is always nice to see the landscaping around new developments settling in. As time goes on, the BODPAVE will become less noticeable as the grass grows and covers the units.
For any further product information or to request a CPD in person or remotely on any of our urban or rural modules please contact Alasdair Innes at alasdairi@green-tech.co.uk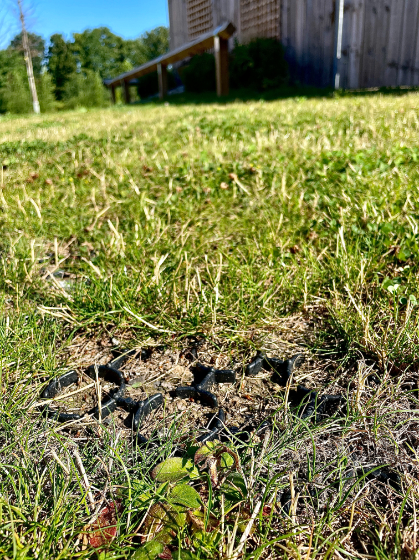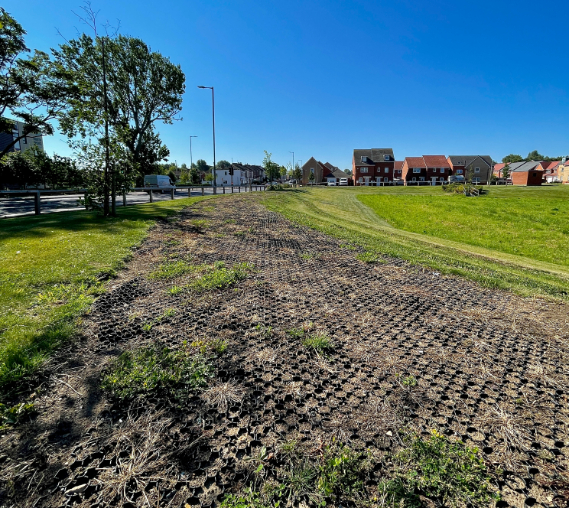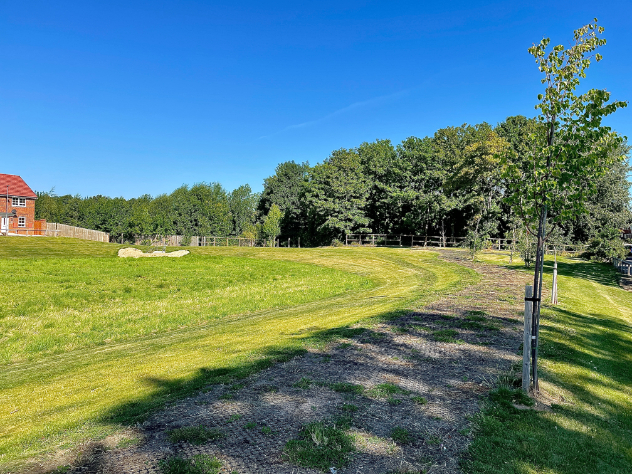 Posted on 03 Jul 2023