A1 Planting Project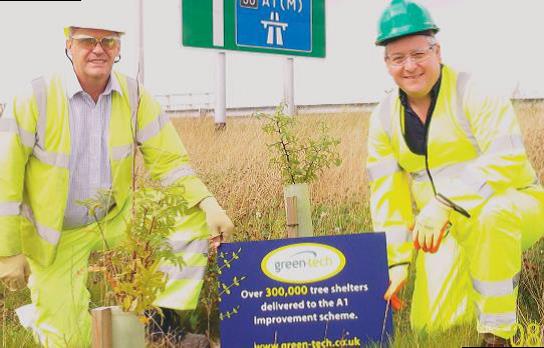 A project worth £318 million to upgrade the A1 through north Yorkshire has been a logistical triumph and a long waited high quality improvement to the Northern motorway network.
Green-tech was ecstatic to be selected as a supplier to the project, working in partnership with Ashlea Landscape Contractors to plant a mixture of trees and shrubs along the embankments and trunk roads of the A1 between Dishforth and Leeming.
The A1 upgrade scheme is part of a government initiative to improve England's motorway and trunk road network. Green-tech supplied over 300,000 shelters and tubes to help give the trees and shrubs planted along the A1, the best start in life. The tree shelters were selected specifically for the protection they offer from animals such as moles, voles and rabbits and the microclimate they create for optimal growth. The harsh environment of a motorway embankment is not sympathetic to growing trees therefore using the correct tree shelter was paramount to the success of the project.
The Green-tech team were ideally located for stock holding, product advice and distribution throughout the project. Proximity to the various sites along the route and local knowledge meant that Green-tech was the ideal support partner for this project. Deliveries were made with ease to various locations where access was a problem and health & safety considerations needed to be made, plus stocking 300,000 tree shelters for call-off showed Green-tech's long term commitment to the project.
Bruce Tyrer, Project Director at Ashlea Landscape Contractors commented:
'Green-tech's assistance throughout this project has been excellent, the team and account manager were always on hand to meet our requirements. We were kept informed throughout the project of stock levels and availability, helping us to plan our work in advance. Certain shrubs along the route have now been in place for 3 years and are showing excellent establishment and growth.'
Tree Shelter Benefits:
Improved micro-climate
Offer protection against animals
Large diameter for optimum growth
Twin-walled construction
UV Stabilised
Posted on 23 Feb 2018