Green-tech supply materials as part of £300m Leeds redevelopment project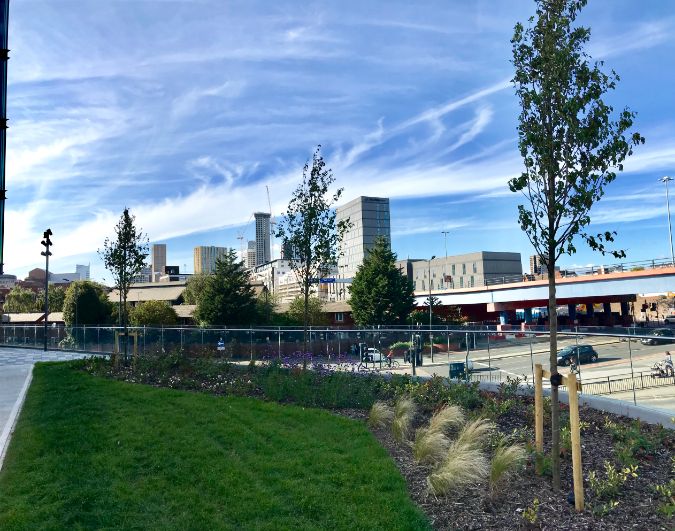 Project: Quarry Hill Campus
Location: Leeds
Client: Leeds City College
Landscape Architects: Re-form
Landscape Contractor: Howard Civils
Product/Services Supplied: ArborRaft Planting System, Substrates, Geotextiles, Tree Grilles
Overview
Designed to be an important and integral part of Leeds' vibrant Cultural Quarter, sitting side by side with the West Yorkshire Playhouse, the Quarry Hill Campus is one of the first developments to be completed as part of an exciting £300m redevelopment of the area. Welcoming students for the first time in September 2019, the new £60m Leeds City College development will be provide a stimulating, state of the art new home for the college's School of Creative Arts and School of Social Science, as well as providing expansion for Leeds College of Music. As part of the larger development, including Gateway Court and Playhouse Square, approximately 0.4ha of existing green space will be enhanced, and a further 0.2ha created, including 33 new trees, shrub
Green-tech involvement:
Situated next to the west Yorkshire Playhouse, planners were keen to develop a continuous public realm throughout the site. Leading Leeds landscape architects Re-form, used landscaping and planting to soften what was previously a hard urban space. The use of trees along the front of the building, as well as around the entrance and raised parking area, add welcome greenery, while three large planters break up what would be an exposed area at the lower level front corner.
The team worked with Howard Civil Engineering, providing the unique, patented ArborRaft tree pit system. ArborRaft's shallow profile not only protects the soil from compaction, but also reduces intrusion into the rooting area. Combined with Green-tree's specially formulated AborRaft soil and subsoil, this will give the trees the very best chance of successful establishment. Terram Root Guard was used where necessary and the tree pits were finished off with the Fortress grille, allowing paving to be laid seamlessly, practically up to the trees themselves. Irrigation is provided by the tried and tested Mona Relief Grande. The perforated pipe sits around the root ball and, via a capped filler pipe provides a cost effective, easy to use irrigation solution.
Callum Dawson – Green-tech Technical Sales "It is always great to be involved in high visibility projects in prime city centre locations, and this was no exception. We have worked with Howard Civil Engineering on many projects to date, and seeing the completed site gives a tremendous sense of satisfaction. It is amazing the difference that well thought out planting makes to a city centre location." Howard Civil Engineering "This was a key project, and as part of a larger development, it was critical that all the parts of the puzzle came together on schedule. The ArborRaft tree pit system is so easy and quick to install, and the Green-tree soils so easy to work with, it makes dealing with them a pleasure."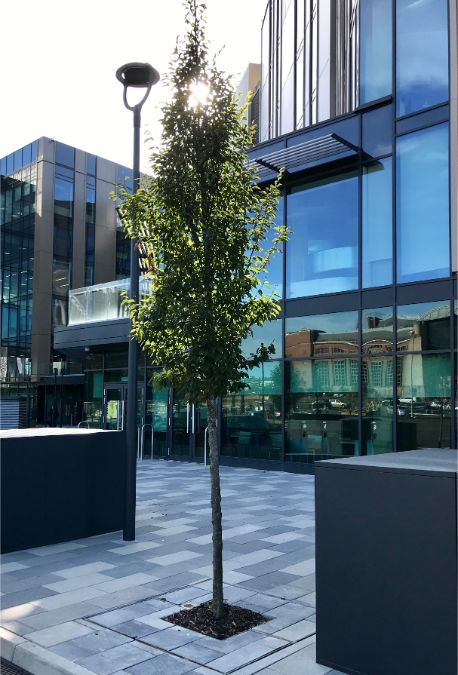 Posted on 12 Nov 2019