Green-tech's Urban Tree System Promotes the use of Less Plastic
About the project:
The Battery Retail Park at Selley Oak is located on the former site of the Birmingham Battery and Metal Company steel factory, first established in 1798. The term battery, referring to the method of forming metal, not the manufacture of batteries as commonly thought.
Located approximately three miles from Birmingham city centre, the site has undergone a recent refurbishment, including the development of a new retail park, Sainsburys Superstore, and student accommodation, all sited around the main customer carpark.
A major part of the project for the contractors was the reclamation of the ground and cleaning up a very toxic site, before any development could commence.
Green-tech's involvement:
The project comprised of nearly forty tree pits over two phases between 2018 and 2020. The first phase was contracted to Bernhards Landscapes of Warwickshire, and the second to McPhillips (Wellington) of Shropshire; both of which Green-tech has worked with for around fifteen years.
The tree pits were set into soft central reservations around the main car parking area, although to get the required rooting volume to ensure healthy establishment and future growth, the tree pits extended out under the parking bays to some extent.
Green-tech has been manufacturing its range of Green-tree soil for nearly twenty years, and over 400 tonnes of clean, manufactured Geo-Cellular Raft System topsoil, and subsoil was supplied for the tree pits. In order to use a nice friable, organic topsoil underneath the paving, the contractors opted for Green-tech's Geo-Cellular Raft System tree pit support system, rather than a traditional, plastic-heavy, deep-pit system.
The Geo-Cellular Raft System acts as a sub-base replacement, supporting the paving above, pedestrian, or vehicular, whilst protecting the soft soil below from risk of compaction. It has three big advantages over traditional deep-pit crate systems. Firstly - it sits over the top of the tree pit, taking its structural support from a 500mm wide ledge cut into the surrounding formation ground, meaning there is no plastic whatsoever in the actual rooting area of the tree pit. Secondly - its shallow profile, just 150mm deep means that there is rarely any conflict with underground services, it isn't deep enough. And third - Geo-Cellular Raft System uses less than a third of the plastic of traditional crate-style tree pit systems, so it's better for the budget and the environment.
Each tree pit also contains a strap anchor to keep the trees stable during the all-important establishment phase, along with a mona irrigation rings. In this instance, to provide even more protection from the risk of vehicular damage, the trees were also stabilised with double-staking, cross-bar, and soft rubber ties.
Alasdair Innes – Green-tech Specification Advisor comments, "We were delighted to contribute to such a high-profile scheme. We recently visited the site nearly four years after the first trees were planted, and although it was autumn, the trees still look happy and healthy. It is nice to see Silver Birch being used, as the white bark helps to lift the muted colours of the ground planting."
For any further product information or to request a CPD in person or remotely on any of our urban or rural modules please contact Green-tech on 01423 332100
green-tech.co.uk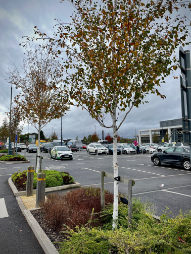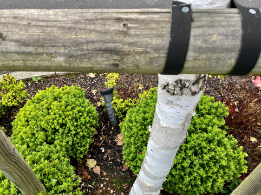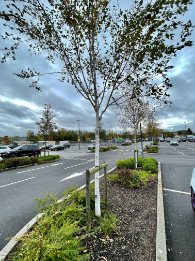 Posted on 09 Feb 2023