Green-tech supply materials for innovative living roof bus shelters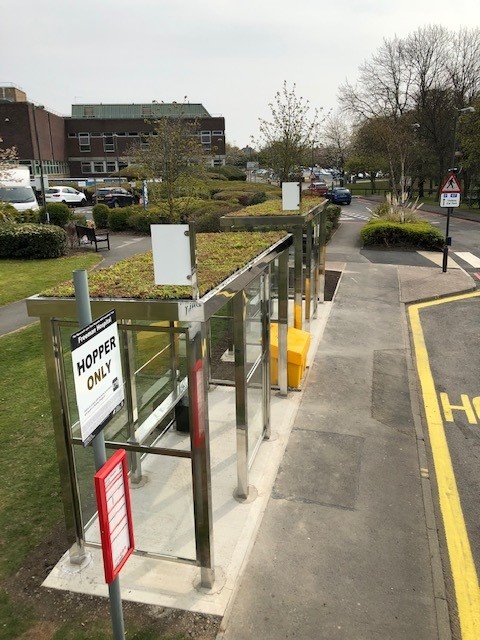 PROJECT: Living Roof Bus Shelters
LOCATION: Newcastle
CLIENT:Newcastle Freeman Hospital
CONTRACTOR: Autocross Euroshel
PRODUCT/SERVICES SUPPLIED: Sedum Green Roof Cassettes
Its World Green Roof Day on Sunday 6th June and Green-tech has been involved in an unusual Green Roof - a bus shelter!
We are all aware of the effects of global warming, especially within our cities. The increased emissions from traffic and industry are rapidly toxifying our air, to the point that in many cities the air quality falls short of the safe guidelines.
Along with air pollution comes the resulting heat soak, when all the hard concrete and glass surfaces within a city both reflect and absorb heat. This is known as the Urban Heat Island, which can raise urban temperatures by as much as 7°c. So, anything we can do to help absorb these airborne toxins, or to cool our urban environment, no matter how small, is worthwhile.
Green roofs absorb carbon, and they also help to capture contaminant particles. In return they give back clean air. As well as air filtration they help to attenuate water, slowing down and taking up some of the storm water before it disappears down our sewer systems. They give a lot of this water back to the atmosphere via evapotranspiration, all helping to offset the effects of the Urban Heat Island.
Green space is in short supply in most cities around the World, but it was Utrecht in the Netherlands that pioneered using the unused space on top of bus shelters for added bio-diversity. By 2019 they had over 300 bus shelters featuring green roofs. As well as encouraging, bees and insects and other pollinators, they helped to soak up storm water.
Autocross Euroshel is the leading provider of Innovative Bus Shelter Solutions across the UK. Their latest editions feature high grade polished stainless steel, to give a modern contemporary look, in addition to serving as valuable shelter from the elements.
They were approached earlier this year to produce two bus shelters which would be situated outside the Freeman Hospital in Newcastle-upon-Tyne. The brief was to provide aesthetically pleasing shelters that would stand the test of time, and to incorporate a green roof on each. The simplest solution was to use ready-made cassettes containing everything necessary to establish a successful sedum green roof.
The shelters were strengthened to take the weight of the green roof, and the sedum cassettes were situated within a custom-made frame, sloped slightly to allow any excess water to drain off via an outlet pipe concealed within the stanchions. This water then drains away into a land drain.
Green-tech supplied 48 of their sedum cassettes. Each cassette contains four key layers; the base is a drainage layer of expanded clay granules, which slows water filtration without water-logging, as well as holding on to some moisture within its micro-pores. Above this sits a filter layer; a geo-textile that allows the passage of water, but no substrate particles which could block the drainage holes. Then sits the substrate itself, which has been specially blended to meet the needs of the sedum, offering nutrients, moisture, and anchorage to the plants above. Finally, the sedum itself, a mix of up to 16 species. Each cassette offers near 100% coverage, which gives instant impact once the cassettes are laid.
Measuring just under half a metre square, each sedum cassette connects to the adjoining unit, making installation both simple and extremely quick. Once laid, these are relatively maintenance free although we would recommend you remove any weeds or dead foliage in the spring and autumn, and a quick check to ensure that the drainage holes are clear. These really are a "lay it and leave it" solution to greening up our urban commuter routes.
Commenting on the project Phil Smith Operations Manager from Autocros Euroshel said, "Green roofs highlight the value of integrating sustainable design and green travel in attempts to reduce rates of climate change. We were delighted with Green-tech's sedum cassettes. They were lightweight, which obviously helps when working at height, and could not have been easier to install. Hopefully, these will be the first of many living roof bus shelters."
Alasdair Innes, Green-tech's Specification Advisor adds, "It was great to be able to work with Euroshel on their first green roof bus shelter. We often extol the virtues of using sedum cassettes as a quick, easy, and cost-effective way of creating smaller green-roofs, and to see them being used out in the public arena like this is a sure-fire indicator that public bodies are really starting to explore more ways to improve our green infrastructure."
Photo's courtesy of Autocross Euroshel