Green-tech joins select group in achieving ISO 9001:2015 and ISO 14001:2015 accreditation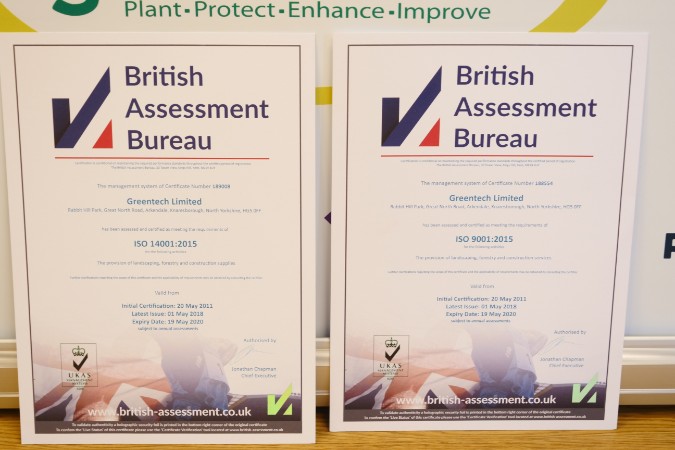 This is the eight successive year that Green-tech has achieved the ISO 9001 and ISO 14001 accreditation certification but the 2015 standard is the latest, most detailed and comprehensive quality and environmental standard, confirming Green-tech as one of the leaders in its field.
ISO 9001 and ISO 14001 are amongst ISO's most well-known standards. They are implemented by more than a million organisations in over 170 countries.
Green-tech has successfully demonstrated its commitment to continuous improvement for both standards. This independent assessment was conducted by the British Assessment Bureau, a leading Certification Body, and demonstrates Green-tech's commitment to ISO 9001: customer service and quality in delivery and ISO 14001: environmental impact.
ISO 9001 requires organisations to demonstrate that they do what they say they do, and that they have a Quality Management System in place to ensure consistency and improvement. Certified organisations such as Green-tech are committed to continuous improvement and are assessed to ensure progress is being maintained.
ISO 14001 requires organisations to have an environmental policy and action plan in place to manage their impact on the environment. Green-tech has successfully demonstrated its environmental credentials and met the rigorous testing procedures to give their stakeholders reassure that they take their corporate responsibilities seriously.
Rachel Kay, Green-tech's Managing Director said:
"We are delighted to have achieved ISO 9001:2015 and ISO 14001: 2015 certification; it underlines our commitment to our customers and our focus on quality and the environment. Not many customers get to see their suppliers' 'back office' activities. This recognition demonstrates we can provide a quality solution from quotation through to delivery. We work within the ISO framework to help us to deliver consistently high levels of performance and customer satisfaction. To be one of the first companies in our industry to be assessed against the 2015 criteria is even more significant for us; so, this is great news. I'm really pleased."