Green-tech launches new state-of-the-art Website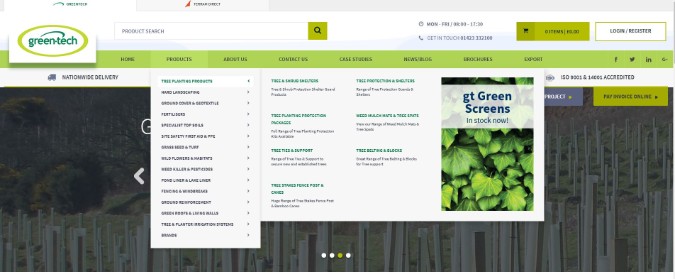 Green-tech has announced its new website, that has been in development for the last 10 months, has gone live.
The website www.green-tech.co.uk brings together products from all of Green-tech's brands into one central hub.
The new-look website is great news for Green-tech's visitors; it will provide them with an improved browsing and better buying experience.The highly sophisticated back-end technology will analyse their movements and actions while on the site and personalise future visits for them.Other new features that visitors will enjoy include a powerful search system, product calculators for select products and a membership facility to enable customers to set up an online account; making ordering and managing their account easier, faster and more convenient for them.
Green-tech has been listening to its customer feedback as to what they want from the company's website and incorporated it to provide a great user experience.
The inbuilt artificial intelligence will provide customers with a personalised service
The mobile website has been fully overhauled and offers vastly improved viewing when out on site, with access to a full library of free resources
The website is easier and faster to navigate around
Online calculators are readily available for working out the right quantity of soil, grass seed and pond liners
Online assistance with estimating projects is now available
Visitors can chat live to a team of experts
There is improved technical data available
The entire product range is available to buy online
More detailed information is available on delivery times
Pre-ordering of products is now an option
Dan Burton, Green-tech's Digital Executive, managed the project and said,
"We have merged together five individual websites – Green-tech, which has gone live and will be quickly followed by, Flexible Lining Products, John Chambers wildflower seed, Gt specifier and Green-tree soils. The new back-end system gives us improved control and easier management over all of our websites. It is responsive across desktops, tablets and mobile, making 24/7 ordering easier than ever."
Green-tech's Managing Director, Rachel Kay adds,
"This is a substantial investment for Green-tech which demonstrates our commitment to our customers to enhancing their online user experience.Visitors will have a much better online experience; they will find it easier to navigate, get in touch, receive assistance and place orders.They now have one source for all product details, technical information and case studies."