Ready. Set. Spring with Green-tech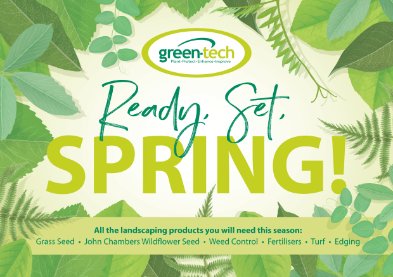 Green-tech has launched its spring catalogue which is crammed with essential products for spring maintenance projects.
The new spring catalogue is full of landscape products for the maintenance season, including one of Green-tech's most popular greening solutions, gt Green Screens - a green alternative to fencing. Maintenance essentials include grass and wildflower seed, weed control products, fertilisers and soil improvers, ground protection and stabilisation products, turf and edging and artificial turf.
The brochure includes all products from leading chemicals and fertiliser manufacturers as well as their popular own brands of John Chambers Wildflower Seed and gt Advance grass seed.
New products to make their debut appearance include Newt fencing and accessories, a new range of planters available in a number of finishes and an essential workwear collection from Dickies.
Sales Director Richard Gill said,
"This is our largest spring brochure yet. It's packed with pages of new products as well as the landscaping essentials needed for the Spring season. All products from leading chemicals and fertilisers to our own brands of John Chambers Wildflower Seed and John Chambers grass seed have been price checked to ensure we are offering our customers the right products at the right prices. Our inhouse BASIS Advisor are available to provide advice on weed control and the most appropriate products for a job which always proves a popular service with our customers."

Download a copy of the Spring into the New Season catalogue from
www.green-tech.co.uk/quick-links/brochures or call 01423 332 100 for a hard copy.