Award Success at the Harrogate Spring Flower Show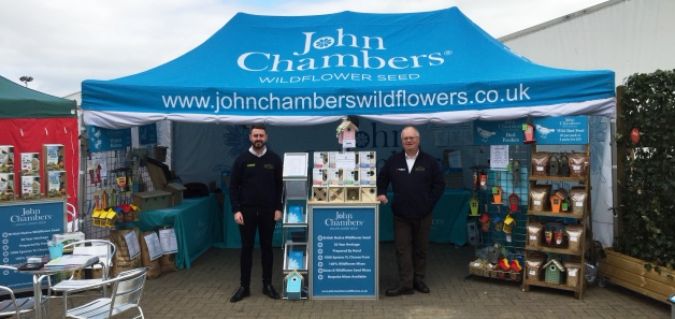 Green-tech's wildflower seed brand, John Chambers, took the recent Harrogate Spring Flower Show by storm.Their largest stand to-date bagged them the prestigious Silver Award for a high standard of display.
The show saw the John Chambers team sell a record number of wildlife habitats over the four-day period. Their stand was crammed with wildflower seed, wildlife and insect habitats and with the current trend on wildlife conservation and creating a biodiverse environment, their wild bird feeders, bug and bee habitats proved to be popular purchases.
John Chambers Wildflower Seed Manager Stuart Ball commented,
"This was our biggest and best show yet. The sun was shining for us and the crowds came pouring in.There was just so much interest in creating a wildflower garden and incorporating wildlife habitats into this. It was a genuine delight that the interest in preserving our wildlife species and encouraging and creating biodiversity is stronger than ever."
Green-tech also donated the timber and compost for the Gold award-winning show garden. The top honours in this years' Harrogate Spring Flower Show Gardens went to 6 Regiment, Royal Logistics Corps for 'A Homecoming Prayer'.
Sponsored by BALI and its registered Affiliate members, including Green-tech, 'A Homecoming Prayer' was the largest ever show garden at the Harrogate Spring Flower Show and also walked away with Best in Show!
The garden will now be recreated at the 6 Regiments' base barracks at Dishforth Airfield, which is located just along the road from Green-tech's head office in North Yorkshire.