Best trading year in Green-tech's 23 year history.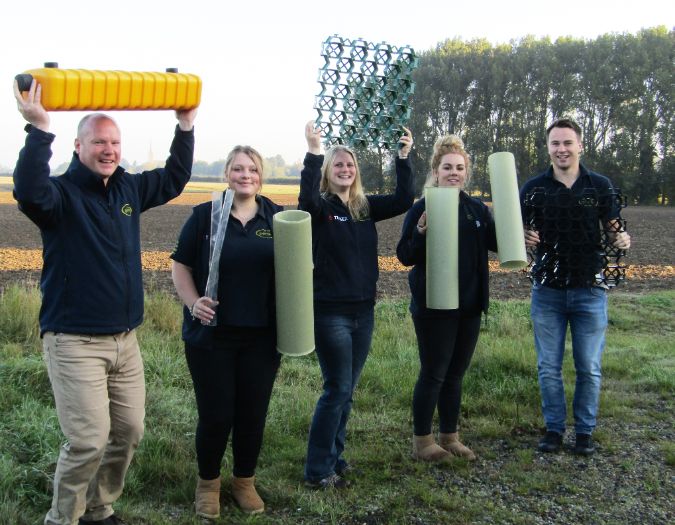 Leading landscape supplier Green-tech is celebrating a record year since its formation in 1994.
Green-tech completed the year with a turnover of £12.7 million; the highest in Green-tech's trading history.They had 12 consecutive record breaking months; something they have never achieved before. March was the ultimate high for the company when they achieved a whopping £1.5 million of sales.
Green-tech's head count has been on a sharp increase over the last four years and they end their financial year with a record 77 employees, 31 of these form the Sales team; their largest yet, with yet more plans for further growth scheduled. They took on a number of Apprentices earlier on this year and have plans to open this up to more young people with further Apprenticeships planned.
Green-tech will be celebrating its two year anniversary in November at purpose-built premises, Rabbit Hill Park, just of the A1 in North Yorkshire. The new premises, which cost in excess of £3 million to build are home to Green-tech's head office, warehouse and distribution facility and customer collection store.Since moving to the Business Park Green-tech has gone from strength to strength and has plans to reach a turnover of £20 million over the next few years.
Green-tech is an avid supporter and regular contributor at industry events and exhibitions and has supported an unprecedented number this year. They are the headline sponsor of the glittering BALI National Landscape Awards, sponsor of FutureScape, the APL Awards, the APL UK Worldskills Landscaping competition and Soils in Crisis: Parliamentary reception
Green-tech has long since been recognised for its excellence and commitment to the industry. They have been announced as a winner in the prestigious BALI National Landscape awards 2017 'Affiliate Exceptional Service category.
Commenting on their financial year, Chairman, Richard Kay said:
"I am overjoyed at our present position. It has been a tremendous year for Green-tech.Exceeding the £10 million turnover milestone has been a personal target of mine so I am delighted that our hard work has paid off.We are already looking forward and planning our next milestone which is to reach £20 million turnover in the next five years so watch this space and expect big things from Green-tech."