Green-tech donates substrate for the Newham Hospital as a thank you to NHS workers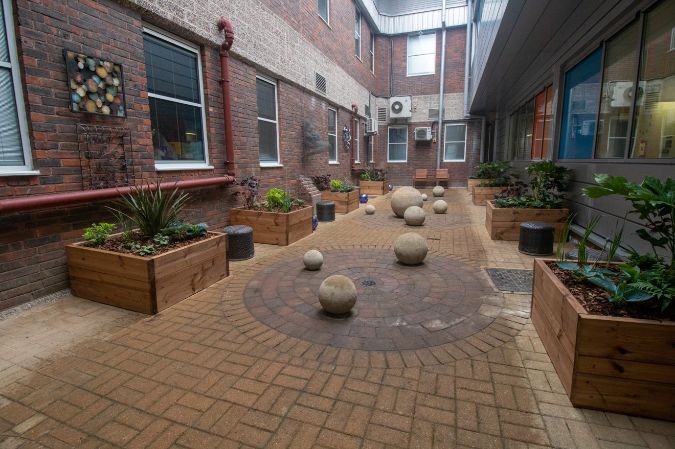 Green-tech donates substrate for the Newham Hospital tranquillity gardens as a thank you to NHS workers
Ground Control, with the support of its clients, suppliers and staff undertook a regeneration of several of Newham Hospital's gardens and outdoor spaces to create a number of Tranquillity Gardens as a way of thanking staff and commemorating those who lost their lives in the Covid-19 pandemic.
Green-tech was delighted to be asked to help and donated £4,500 worth of Green-tree substrate for use in the planters and ornamental bark mulch for dressing of the planted areas.
Green-tree substrate is packed with green credentials. It is manufactured from natural by-products of the recycling industry and packed full of the essential nutrients and structural components that result in a rich and organic substrate. It ensures quick establishment of trees, plants and turf; without the need for additional fertiliser products in the first season.
Newham Hospital is part of the Barts Health NHS Trust which serves a population of more than 2.5 million people. The borough of Newham has been one of the worst hit for Coronavirus and the gardens will provide a retreat and place of comfort for staff, patients and visitors to enjoy for many years to come.
With a goal of complimenting the character of the existing gardens and softening the environment to provide a level of tranquillity to users, the work involved substantial pruning, planting a variety of new plants, removal and replacement of outdated furniture and installing new planters and trellises.
The week-long project was managed by Ground Control and completed on Friday 12 June. Memorial plaques have also been added to the gardens in memory of those who died during the pandemic.
Along with Green-tech, industry partners Savills, Livingreen, Marshalls, Crowders, Beechenlea, Europlanters and Homebase also donated goods and services.
A spokesperson from Ground Control commented;
"The support that Ground Control received was overwhelming, with many in our industry wanting to show their support for the NHS. We had so many generous donations that we were able to provide some to other hospitals in the Barts NHS Hospital Trust. Thank you from everyone at Ground Control, for your support in this project. Together we were able to make this happen."
Adam Sewell-Jones, Interim Chief Executive at Newham Hospital said:
"The replenished tranquillity gardens will provide a much-needed space for visitors to reflect and remember those who sadly lost their lives to Covid-19. I'd like to thank Ground Control and supporters for the work they have done to transform the gardens."
In total, eight of the gardens and green spaces at Newham Hospital have been revamped and upgraded to become green havens for reflection. Each of the gardens have received a range of new plants to complement the garden's character, with the ultimate aim of providing respite from the surrounding built up environment. A collection of new garden furniture has also been added to allow more opportunity to sit and take a moment of reflection.
Richard Gill, Sales Director at Green-tech added,
"We were delighted to be asked by Ground Control and proud to be involved. The landscaping industry is full of generous individuals and companies who all rose to the challenge but hats off to Ground Control for pulling it all together and achieving such amazing results in just a week. It will be welcomed and beneficial to so many."