Green-tech helps celebrate Shakespeare Week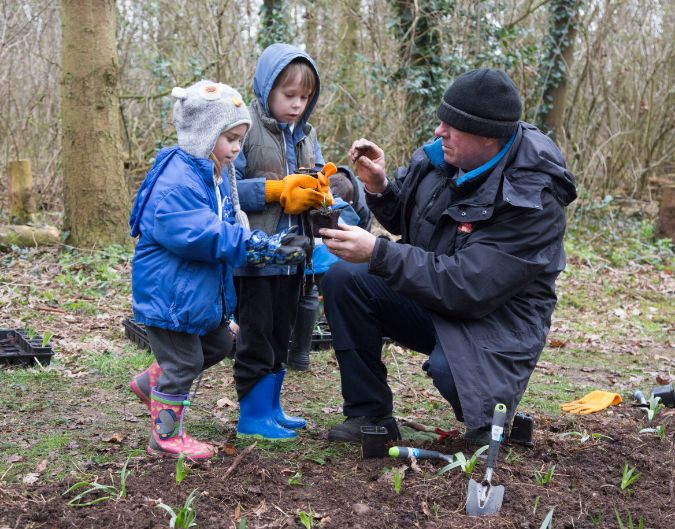 Shakespeare Week is a national annual celebration that took place last week, 16-22 March 2015, giving primary school children a great first encounter with Shakespeare.
As part of the celebrations over 100 children visited Anne Hathaway's Cottage to plant 1000 bluebells in the woods; Green-tech, was delighted to offer support by donating gardening equipment for the children to plant with.
It has been estimated that almost a million children took part in Shakespeare Week 2015, which encourages schools, children and their families to explore their local arts and heritage sites and continue their Shakespearian adventures where they live.
The bluebell planting project is part of the Shakespeare Week 2015 celebrations and was managed by Gardens Manager, Scott Boyden, who said:
"We ordered the bluebell bulbs from John Chambers Wildflower Seed, which is part of Green-tech.We were delighted when they got in touch and offered us some free equipment for the children to use.We always appreciate any donations like this and it was lovely to see the children having so much fun, whilst learning and helping to preserve the woods in Anne Hathaway's Cottage for future generations to enjoy."
A spokesperson from Green-tech commented:
"We are involved in lots of community projects and are always delighted when children have the opportunity to be involved.Its projects like this that inspire the gardeners' of the future.Wildflowers are so quintessentially British, which goes hand in hand with Shakespeare."
If you would like to help the Shakespeare Trust or wish to know more about Shakespeare Week visit www.shakespeareweek.org.uk
To order bluebell blubs or other wildflowers email sales@johnchamberswildflowers.co.uk