​Green-tech Hosts Christmas Olympics 2018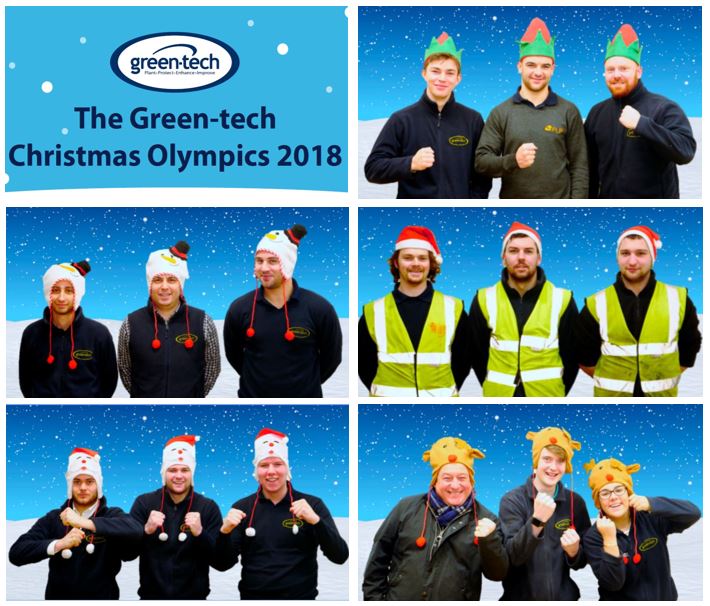 Green-tech Hosts Christmas Olympics 2018
Once again, the Green-tech team has pulled out all the stops to put on their own Christmas production for the industry's entertainment.
They have unveiled their hilarious take on the Winter Olympics with a number of challenging sporting events which are sure to test even the fittest and most determined athletes.
Five teams went head to head in what's arguably their most competitive event this year. Green-tech colleagues joined forces to form the following teams - Santa's Little Helpers, The Naughty Elves, The Jolly Santa's, The Cool Snowmen and The Red Nose Reindeers. It should be noted that all athletes have undergone extensive training in full preparation mode for the big day and are in peak fitness.
Their customers and suppliers were involved and took delight in voting for the five Green-tech teams who bravely agreed to take part in the physical challenges.
Managing Director Rachel Kay comments,
"Our 'productions' are fast becoming the highlight of the December landscaping calendar. It's a competitive business and the Green-tech team have to go through a rigorous process to earn their right to compete. Only the most determined will meet the grade. For the second year Sales Manager and Presenter Roger McGivern stepped away from his day duties to report brilliantly on proceedings. On a serious note, Green-tech has had another brilliant year and we love to give a little something back to our customers, suppliers and contacts. We're always delighted to hear that we have brightened someone's day. It's our way of saying Thank You to the industry."
The eagerly anticipated Green-tech Christmas Olympics 2018 video has been unveiled and you can view it here – https://www.green-tech.co.uk/greentech-christmas-olympics/christmas-olympics-result
Green-tech would like to wish all their customers, suppliers and friends in the industry a Merry Christmas and Prosperous New Year.