Growing Seeds of Inspiration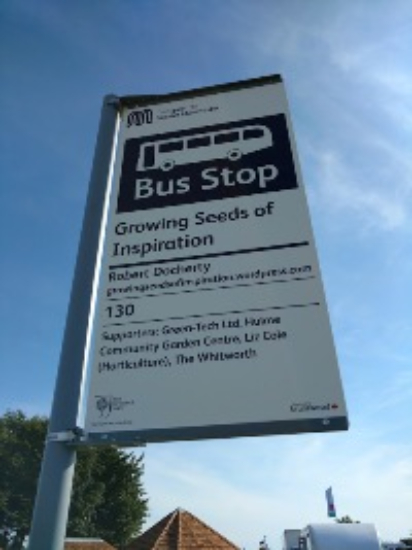 RHS Flower Show at Tatton Park starts today and Green-tech is delighted to be supporting designer Robert Docherty with his inspirational 'show garden'.
This year, visitors can take a stroll down the new Bus Stop Boulevard and can delight at the spectacle of floral bus stops along the RHS city street. Supported by Transport for Greater Manchester, five local communities and designers in the Greater Manchester area were challenged with decorating and greening up a number of bus shelters.
Giving a healthy dash of green, the bus stops hope to inspire others to get growing along with a celebration of community, culture and people.

Inspired by the wonderful art and gardens of Manchester's Whitworth, the 'Growing Seeds of Inspiration' bus stop is reimagined as a fun, thought provoking mini art gallery and garden. The idea came about through the designer, Robert Docherty, volunteering at the Whitworth and the connections forged through that. The design suggests the link between art, gardening and design. Features include Green ivy (Hedera helix 'Woerner') screens which Green-tech donated; and planting inspired by the fantastic Whitworth gardens. The colourful panels and planter decoration references the Whitworth's textile and wallpaper collections. Artwork includes items produced through Whitworth wellbeing programmes.
The ivy Green Screens is part of a portfolio of 'greening' solutions from Green-tech that can quickly and cost-effectively become established within an urban project. The ivy screening provides much needed 'green' coverage and offers greater versatility.