John Chambers Wildflower Seed joins the Pollenation campaign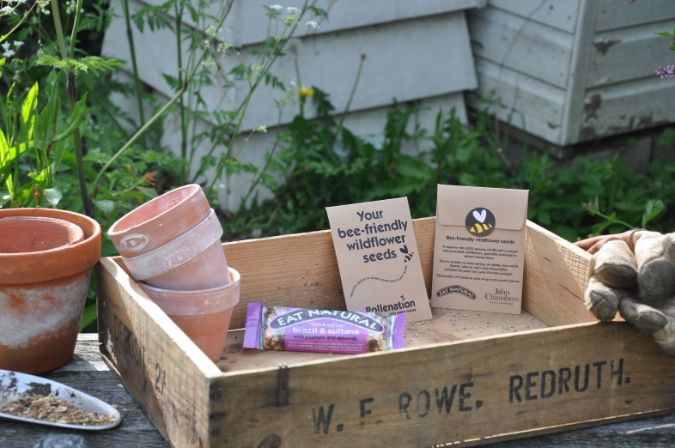 John Chambers Wildflowers has joined forces with Eat Natural and the British Beekeepers Association – in a drive to create more bee-friendly habitats.
John Chambers Wildflower Seeds has supplied over 15,000 packets of wildflower seed to Eat Natural for its new Pollenation initiative which aims to promote and protect the British honey bee. The John Chambers team has worked in partnership with the BBKA to create a honey bee wildflower seed mix that creates areas of beautiful lush wildflowers particularly attractive to the honey bee. The honey bee mix, like all John Chambers wildflower seeds, were cleaned and blended by hand and packed in bespoke-designed Eat Natural packets.
Packets of wildflower seeds are being given away free as part of a multi-channel campaign spearheaded by Eat Natural designed to celebrate the humble honey bee and its importance in creating bio-diversity and improving the environment surrounding us.
The Pollenation initiative will distribute beehives made from upcycled wooden Eat Natural pallets that not only supply a home for honey bees but also help the beekeeper understand the bees' activity by tracking bee health and behaviour, monitoring honey yield and gathering data which will give scientists access to unprecedented data on bee behaviour and will become invaluable in the fight to save British honey bees.
The initiative also aims to encourage the general public to create bee-friendly habitats incorporating bee-friendly flowers and plants into gardens, small holdings and allotments. Every visitor to the Pollenation website that signed up to the initiative received a free packet of John Chambers Wildflower Seed to help create their own wildflower plot plus a free Eat Natural bar too.
Championing Eat Natural's Pollenation intitiative is Ben Fogle:
"The plight of the British Honeybee is very close to my heart. My family keeps bees and it was only a matter of time before I got the buzz (excuse the pun!). I am thrilled to launch this campaign and get people thinking, talking and taking action to support this significant intitiative."
Stuart Ball, John Chambers Wildflower Seed Manager
"One of the easiest ways to help bees is to make bee-friendly habitats by growing plants and flowers that bees love. We're thrilled to have teamed up with Eat Natural and have created a special flowering mix of seeds designed to attract honey bees.This is such a fantastic initiaitive and John Chambers Wildflower Seed is really proud to be involved."